Fetish Acceptance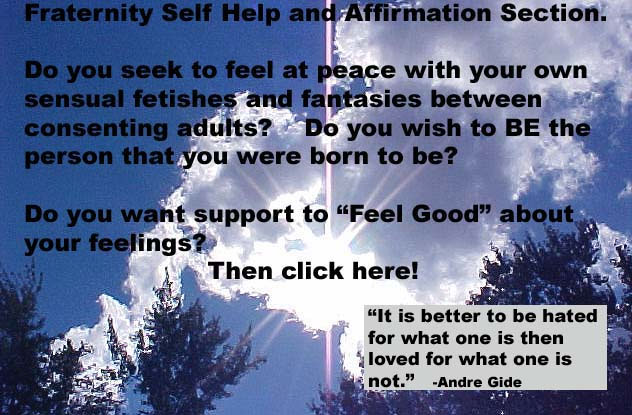 Loading the player ...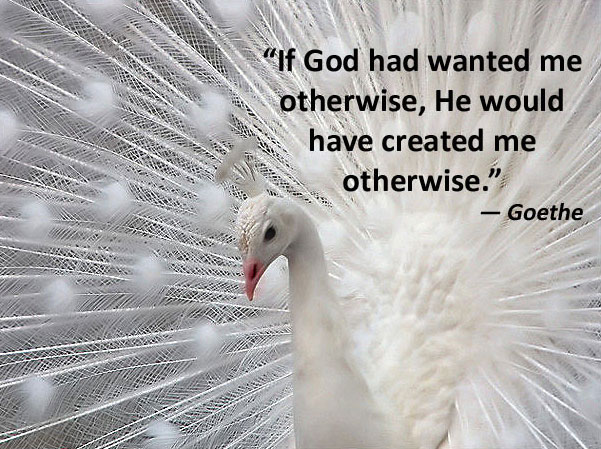 Affirmations
...from Fraternity members
Dug:

Thanks for taking care of the order for me. But more importantly, thanks for all you do for all of us who have a male foot fetish. The Fraternity is such a wonderful thing because it lets you know that you aren't the only gay guy in the world who loves men's feet, socks, and shoes. Growing up in a small town, it was hard enough to try to get along knowing you were gay, and trying to keep that secret. But it was far more scary to even think about people finding out that you had a foot & clothing fetish. There were few opportunities. Recently, through the Fraternity Yahoo group I made contact with a guy my same age whom I went to junior high and high school with. We both had this fetish for as early as about 10 years of age, and we knew one another, but were both afraid to share it. Neither of us ever knew about the other one. What a shame! Our lives would have been a whole lot happier if only we had known. Sadly, he no longer lives here. What you do is so important. I am proud to be gay and even more proud to have a my fetish for uniforms and footwear. You and the Fraternity played a huge part in that. If I could choose to magically be made straight, I'd never want to be because I have embraced my fetish too much. Never forget that you are truly an "angel" to so many of us, Dug! Brian

Comments
...from Fraternity members
To be dominated by men's feet is my dream!
Hi, I've just recently discovered the Foot Fraternity. As I have a really huge fetish for boots, socks and bare feet, I'd like to join the group in order to share with others and meet guys in my area
I am gay over 23, and love man's feet!
Like it with a passion
I am in love with men's bare feet and long to meet some guys who will rest their feet on me and dominate me.
Followed you for over 20 years
I'd like to join this group as I'm crazy about male feet
I'm 55 years old and as far as I know I've always had a foot fetish. I need my privacy.
I am a 23 y/o college student in North Carolina and guy's feet are a huge turn on.
I am a German guy. I Love FF, I think it is the best website of the World.
I love men's feet, plain and simple. I love to worship them. Sniff, smell, lick, suck, chew....and kiss them all over. Nothing like it.
It's time for me to find a hot guy to be under his feet. After years of desire, it's time to make it happen. Hopefully joining your group will help me meet new people.
I'm a cute Asian foot slave and I fancy the FF website so much. I'm now longing for joining your community in a spirit of touching the amazing foot masters there and serving them! Please!!!
Hi. I've had a foot and sock fetish for as long as I can remember, and I'd like to be a part of this group!
I have been a big fan of your website for years and have enjoyed exploring my fetish with your services. I would love to be a part of the group.
The guys of Foot Fraternity are cute and sexy guys with great looking feet. It's so exciting to see how much they are into their feet being worshipped.
Thank you Dug...I really appreciate your words, I hope to share my fantasies with someone in this group...
I love the foot fraternity, please let me join, I wish to be nothing more than the ground beneath the models' feet
It's a beautiful dream to beg an alpha guy to kiss and lick his manly looking feet and to be under his feet and feel his domination and power
Translation: I am a slave
I'm a men's feet lover.
Looking to lick soles
The Foot Fraternity is sooo awwwesome... :)
Damn, this group looks incredible!
I want kiss any feet pleazzze
I love feet
I want to worship a jock
Have always been into servicing and worshipping men's feet
I need to be dominated by a hot straight master. i need to be dominated by their hot sexy feet!!
I would like to join the group to get more exposure to a foot fantasy I've always had but never acted on it due to family and keeping it a secret for many years.
Love seeing submissives worship feet
II love being trampled and having feet in my face. I have a hard time find other around me that will indulge me, so I would really like to join your group.
Life-long
footman here - Nothing gets to me like hot, masculine feet,socks, SOLES; foot worship, domination, teasing - name it - I've got an intense passion for it!
I am incredibly turned on by men in dark dress socks, I always have been but suppressed it out of fear but now would like to sniff a guys socks after a hard days work..having him rub them in my face.
I love men's shoes & socks &feet. And I love to lick them all.
Thank you for this adult group which handles this material so very well. Looking forward to being a member.
47 y.o. Hispanic Male, LOVES Masculine Feet, also Sheer socks and garters.
I am 50 years old and have always had what I consider a healthy interest in male feet, socks, shoes, tickling, worship, etc., and would like very much to join this group.
Sexy black male in NYC with a major foot fetish. Love suckin' toes & licking feet. Hope to join group & meet other foot guys like myself.
I am 49 yr. old and love to be under boots, shoes and feet, to worship them.
Hi, I just turned 50 and have a lover, into feet, socks, boots sneakers, size 11.5 like to trade, sell or buy. Maybe meet a guy here to massage my feet.
I've had a huge foot fetish ever since I can remember before I even knew I was gay and this group seems like it's right up my alley.
Hey I'm totally into feet
Foot worshipping the superior Alpha male is SOOOO hot! Admit me here, please!
I am just starting to realize my fetish and need to learn as much as I can about where to go to find others like myself. I am 6'2 200lb. green eyes dark blond big build.
I'm a foot slave from Hungary. I like to be under the foot.
I'm a Brazilian man, 49 years old, living in Belo Horizonte. I would like to join this group. Thank you.
Hello, I'd like to join yr group as I have a deep fetish for guys feet, have a few stories of a friends feet while he slept Id could share, a guy sexy feet and arm pits can be his best asset
Saw a movie with Sam Elliot that showed a prostitute friend who sucked and licked his toes...thought it was HOT! Thought of it for years. Please consider me for membership in your group...thank you.
I am 45 years old and have had a shoe and boot fetish since I was 4. Would love to connect with other guys into the same thing.
I have a huge foot fetish, especially younger, dominant types with biggggg feet and long toes.
I've a big fetish for socks, loafers and foot, I love seeing men's shoes and when they begin to put off them (at table, at working) my crotch become sooo hot!!
I am 43 years old Latin American love socks feet
I love feet so much!!!!!
Please let me sign in cause I love male feet and to be trampled
I love men's feet, love them.
I really want to find out my true sexuality...I know I love feet though...
I believe in starting from the bottom up. I always look at dress socked feet first. That makes the man for me!
Hello, I like guys who lick my feet. Please let me in.
Enjoy guy's feet and penny loafers and boots
Older guy here that is really into feet and socks
LOVE FEET
I like to have male feet on my face
Slave that loves to worship male's feet
Know my place is at a straight Man's feet
I'd like to be part of this community, I'm totally into this foot/groveling scene thank u
Have been a fan of men's feet and footwear as long as I can remember!
Hi, I'm a 27 year old Personal Trainer in UK that can't get enough of male foot domination. I have brought many FF films and am itching to get under some hot American jocks feet.
I am a Chinese foot master, I like this game.
The foot fraternity hello friends, I'm loving male feet and would like to join your group and share stories, videos and photos, let me join your group, I'm 27 and I'm from Ecuador, thanks
I love foot fraternity! It's the sacred place for slave like me.
Hi, my name is Alejandro. I'm a Peruvian guy. Men's feet, especially in sheer nylon socks, turn me on.
For as long as I can remember I have always had a yearning for men's sweaty smelly socked feet and footwear. I love everything from white sweat socks to thin black dress socks.
I adore MALE feet!
29 year old from Toronto into men in boots/dress shoes and trampling
I'm a fan of The Foot Fraternity, since 2003. Just love what you guys doing!
I'm an Italian footstool...
Woooohoooo
I have a major foot fetish and would like to meet others of the same
I've been into the foot scene since 1997 and just saw this site.
I am a young stud, likes getting my feet worshipped
I must say Foot fraternity is the most foot fetish site I ever seen.
I want to join this group because I love straight male feet :)
I am an athletic young college student really into men's feet.
I'm 38 straight from Italy with nice and big feet
I just love male feet, they make me go sky high :)
I would like to join as I think all faggots should be licking straight MEN's shoes, sneakers, or feet clean every day (and paying for the privilege).
I would really love to join this group I love serving straight men's feet
I am a horny single father of four and I love men's feet
Adore good looking men in socks I love male feet and tickling, 22 year old college student and I'm actually in a real social fraternity and I can't even begin to tell you how many times I've had my fraternity brothers' feet
Love stomping and trampling, always dreaming to be trampled unnoticed. Also would like to trample small skinny guy and test his limits.
I have a great foot and hairy leg fetish for coaches, older men, dad, teacher types
I would like to join this group because I have a passion for male feet. I came across foot fraternity recently and I have been hooked. I am exploring the website and all that it has to offer.
I love male feet and hopefully meet a guy who will let me worship and tickle his feet!
I live in Los Angeles and have a foot fetish. It's difficult for me to meet guys into foot play as I don't know where to look. I'm athletic, private and discreet and would like to meet guys like me
Lifelong fascination with men in socks.
I have great interest in being under a superior guy's feet.
The male foot is the most erotic art form in nature. I have always been mesmerized by the feel and smell of a hot man's feet.